Composite electrical connector is a new type of electrical connector developed by foreign countries in the mid-1980s. This kind of electrical connector made of non-metallic materials is welcomed by the air force and Navy for its excellent corrosion resistance, small weight, excellent performance and good durability. According to reports, the US Air Force and navy have used a large number of composite electrical connectors on various types of aircraft, which is known as a major reform of electrical connector technology. In 1989, military specification for high density small circular electrical connectors made of environment resistant quick connect composite materials, MIL-C-29600, was issued by the United States. Lm123 series electrical connector of Deutsch is a kind of fully instrumented and standardized composite electrical connector. In the early 1990s, Deutsch has been able to produce composite electrical connectors with 17 shell sizes and 92 hole group insulators. Many famous foreign connector manufacturers produce this new type of electrical connector such as Amphenol(US) and Souriar (France). At present, the shell parts of MIL-C-38999 Ⅲ series electrical connectors widely used in the world, have been made of composite materials, in particular, composite materials have been used in the shell parts and tail accessories of the most advanced optoelectronic hybrid electrical connector of the world. This indicates that the application of composite connectors in military electrical equipment and electronic systems is expanding.
Polyether ether ketone (PEEK) is an aromatic semi crystalline thermoplastic polymer material with good stiffness and flexibility, and its mechanical properties are little affected by temperature, can be used for a long time up to 250 ℃ and can maintain good mechanical properties even at 300 ℃. Its chemical solvent resistance is only second to fluoroplastics, insoluble in all solvents except concentrated sulfuric acid, not subject to the chemical erosion of water and steam. Its products can still maintain excellent performance after long time soaking in high temperature and high pressure hot water and steam. Peek has become the preferred material for electrical connector manufacturers to develop composite electrical connectors due to its unique good performance.

Fig. 1 molecular structure of PEEK
In the composite electrical connector products, peek is not only used to make insulating parts, but also used to make external shell parts which play the role of connection and support. In the composite electrical connector products, peek is not only used to make insulating parts, but also used to make external shell parts which play the role of connection and support. Therefore, in the application process of PEEK, not only the problem of forming, but also the problem of surface treatment should be solved, so as to achieve the shielding performance.
1.PEEK shaping
PEEK is a super heat-resistant resin with high thermal deformation temperature and decomposition temperature, good fluidity at high temperature (350 ~ 400 ℃) and high thermal decomposition temperature (560 ℃). Therefore, it can be processed by injection molding, extrusion molding, powder spraying and other methods.
1.1 Injection Molding
1.1.1 Equipment
PEEK can be processed by injection molding machine with common screw or plunger, and the injection molding machine should meet the following basic conditions:
1) The barrel temperature can rise to 400 ℃. Generally, the approximate temperature of each part of the barrel is shown in Figure 2;
2) There is no dead space in the barrel;
3) Because the melt viscosity is high, it will not flow automatically, so the nozzle does not need to add a stop valve.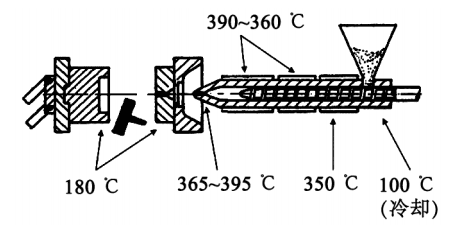 Figure 2 approximate temperature of each part of the barrel during peek injection molding
1.1.2 Mold temperature
When the mold temperature is controlled above 160 ℃, the semi crystalline peek can be fully crystallized. Forming at high temperature can not only produce parts with good comprehensive performance, but also improve the appearance quality of parts.
1.1.3 Drying
The water absorption of PEEK is very low, and its saturated water absorption is only 0.5%. However, in order to have good molding quality at high temperature, the material needs to be dried at 150 ℃ for more than 3 hours before injection molding.
1.1.4 Injection molding process
PEEK的标准注射成型条件见表1。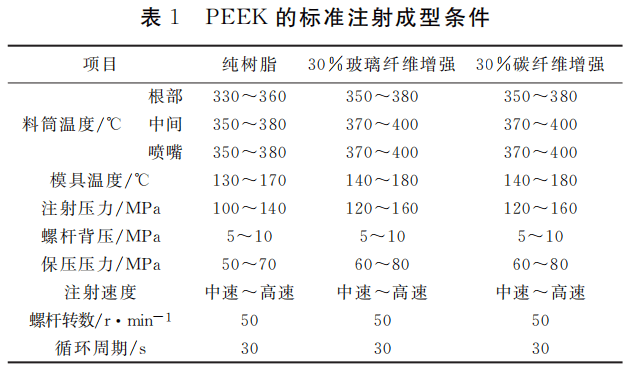 图3 PEEK注射成型零件
2表面处理
按照国内外军用标准的要求,复合材料电连接器应具备屏蔽的功能,以防止飞行器线路间的相互干扰。采用绝缘材料PEEK作为外壳材料时,即使选择碳纤维增强,其导电性仍不能满足标准要求的屏蔽性能,这就要求在PEEK外壳体表面镀覆一层导电层来达到屏蔽的目的。按照标准规定,需要在适合的底镀层上再镀覆镍层、镉层或锡层。
2.1表面处理工艺
查阅相关资料可知,目前关于普通工程塑料(如ABS)的表面处理基本上都有成熟的工艺,有许多资料可供参考。PEEK材料已经成功应用在国外复合材料电连接器上,但在国内仍属于初期阶段,由于PEEK的特殊性和新颖性,还没有PEEK表面处理的相关信息。

图4 PEEK镀镍工艺流程
在整个镀覆过程中,去除应力往往是容易被忽视的环节,该过程应在零件成型后和电镀表面处理前进行。资料显示,经过去除应力处理零件的镀层接合力高于未去除应力制品50%以上。
塑料表面除油方式一般分为有机溶剂除油、碱性化学除油和酸性化学除油。在此环节,PEEK材料同其他塑料一样,选用碱性化学除油方法,但在除油液中,最好不要加入硅酸钠,因为它容易吸附在塑料表面,从而影响镀层与塑料基体的接合强度。
粗化是表面处理过程中的重要步骤之一,目的是增大制件表面的表面粗糙度、接触面积和亲水能力,以此提高制件与镀层的接合力和湿润性,这样塑料表面才能接受金属的吸附,对镀层的接合力及整平性影响达到最大。一般采用机械粗化、有机溶剂粗化和化学粗化等方法,根据塑料品种、形状复杂程度和制品使用环境,选用其中1种或2种方法进行粗化,对于具有化学隋性的PEEK材料,推荐使用机械粗化后再进行化学粗化的方法。衡量粗化是否成功主要看制件表面是否产生了微观粗糙(见图5),镀层接合力是否提高。粗化操作应严格控制条件,若粗化不足,则会引起镀层起泡和接合力差,甚至在沉积金属时出现局部沉积不上;若粗化过度,则会引起零件变形或使表面层腐蚀,从而使表面粗糙度过大。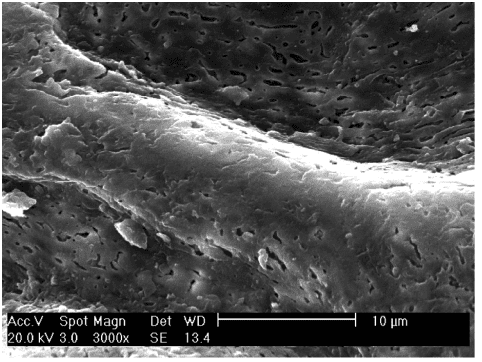 图5 玻璃纤维增强PEEK粗化后的表面状态
敏化就是在经过粗化后的塑料表面吸附一层容易还原的物质,以便在下道活化处理时,通过还原反应使塑料表面附着一层金属薄层,该薄层能承载化学镀和电镀时的载荷电流。氯化亚锡是普遍使用的一种敏化剂,同样适用于PEEK材料。
活化处理就是给塑料涂覆一层很薄且有催化性的金属层。经过敏化后的零件表面吸附了还原剂,在含有氧化剂的溶液中进行反应,能够使贵金属还原成金属,活化处理可在塑料表面形成催化中心,以便在化学沉积中加速反应,因此活化处理过程的实质是"播种"。通常可采用硝酸银型和氯化钯型2种离子型活化液,实践证明氯化钯型的活化液更适合应用在PEEK材料的活化处理上。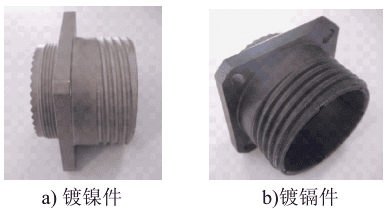 图6 表面处理后的PEEK件
利用化学还原的方法在制件表面催化膜上沉积一层金属,使原来不导电的塑料表面沉积薄薄一层导电的铜或镍层,以便于随后电镀各种金属。从经济和性能等各方面考虑,采用铜作为底镀层已成为塑料电镀的首选,同时通过剖析国外样件,在PEEK的表面处理上,同样推荐用铜作为底镀层。表面处理后的PEEK件如图6所示。
2.2镀层质量检验
在PEEK表面进行镀覆属于新工艺,而且按照军用标准的要求,需对镀层的附着力进行检验。
2.2.1锉刀法检验
将零件夹在台钳上用粗锉刀锉镀层边缘,锉刀与镀层表面大约成45°,锉至约入基材1mm处,用放大镜观察切口,镀层未出现脱落和揭起。
2.2.2锡焊拉力检验
按GJB3234规定,采用软钎焊料将2mm2的多股铜线焊接在镀层表面上。电烙铁的功率≤35W,焊线加热的时间≤30s,焊点的直径约为6.35mm。将零件安装在拉伸试验机上,拉扯导线直至镀层与基体分离或断裂。测量焊接导线从电连接器外壳上被拉脱部位的面积并将分离或断裂时的拉力除以该面积,以确定是否满足剪切强度>5.145MPa的标准要求。
2.2.3热冲击试验
将镀覆好的零件放置在200℃的空气干燥箱中30min,然后将零件从箱中取出,并在15s内将其浸入温度约为0℃的冰水中发现,镀层未出现起泡、脱皮或其他镀层分离现象。
结语
应用研究表明,掌握了PEEK成型和模具结构要点,可成型出符合军用标准要求的零件。PEEK经表面处理后,要在镀层上镀覆其他金属材料,以满足军用屏蔽性能的要求。改性PEEK材料的密度约为1.5g/mm3,接近铝合金的一半,比强度显著,可减轻同型连接器质量30%以上,在型号减重工作上具有重要意义。同国外同类产品相比,该产品已达到国际水平,目前已在国内多种型号上应用。
(en)