Production and application of PPS fiber hot drawing
1. Background
PPS fiber is mainly used in flue dust removal of thermal power plant and cement plant in China. It has a strong market position in high temperature filtration. Usually, film is coated on PPS fiber fabric to improve air filtration effect.
The existing hot drawing roller in tension setting section of afterspinning equipmentin uses steam or conduct heating oil and its surface temperatuew can only be heated to 130 ~160℃.

The following technological conditions for the production of low fineness PPS fiber are as follows: tension setting temperature 180 ~ 260 ℃, drawing speed 210 ~ 260m / min, filament staying in high temperature setting area for 10 ~ 12s. The induction heating roller makes the temperature condition possible.
2. Existing technology defects:
The drawing roller is heated by heat transfer oil or steam, which has the problems of temperature uniformity and safety. The temperature of the roller body heated by steam can not reach the target process temperature, and the temperature control lags behind.
3. Solution:
Induction heating molding roller is used to replace the existing heat transfer oil heating roller. The main advantages of induction heating are as follows:
1. 辊体表面温度可以超越蒸汽或导热油上限,可以实现辊面工作区400℃。使得低纤度的纤维生产成为可能;
1). The surface temperature of roller body can exceed the upper limit of steam or heat transfer oil, and the working area of roller surface can reach 400 ℃. It makes it possible to produce fibers with low fineness;
2. 更好的温度一致性。特殊的能量分布技术,让工作区温度可实现±1~2℃;
2). Better temperature consistency. With special energy distribution technology, the working area temperature cdeviationan reach ± 1 ~ 2 ℃;
3). Better temperature control accuracy. It can directly detect the temperature of roller body, reduce the thermal hysteresis effect, and control the temperature with high precision;
4). High efficiency and energy saving. The electromagnetic induction makes the roller heat directly, and the thermal hysteresis effect is small, which reduces the energy waste related to the intermediate heat transfer (heat transfer loss + high temperature pump energy consumption + bearing cooling system energy consumption);
5). Clean and safe. Completely eliminate the safety risk and environmental impact assessment risk of heat transfer oil (fire, explosion and related business environmental impact assessment caused by coking effect of heat transfer oil) ;
6). Government subsidies and honors. The energy-saving effect of electromagnetic heating can obtain relevant government energy-saving and environmental protection subsidies and honors.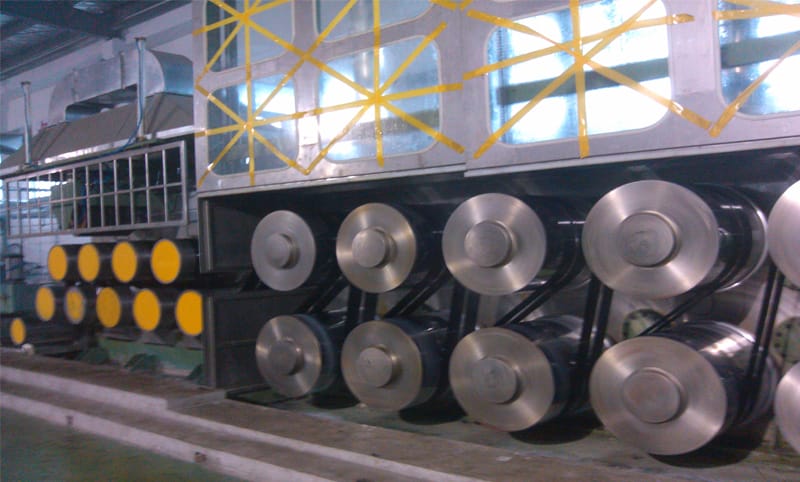 4. Poduct parameters:
roller size:Ф700×700(can be customized)
power:40~90kW(can be customized)
rorking temperature:100~280℃
line speed:130~260m/min