Production and application of thermosetting and thermoplastic prepreg
1.Background
Prepreg is the intermediate of composite materials. According to the type of resin selected, it can be divided into: Thermosetting prepreg and thermoplastic prepreg; according to the type of selected resin, it can be divided into: epoxy prepreg, polyamide prepreg, phenolic prepreg, cyanate ester prepreg, polysulfone prepreg, polyether prepreg, etc.; according to the type of reinforcement materials, it can be divided into: carbon fiber prepreg, glass fiber prepreg, aramid fiber prepreg, basalt fiber prepreg, boron fiber prepreg, etc; According to the structure of reinforced materials, they can be divided into unidirectional fiber prepreg, chopped fiber prepreg, fabric prepreg, etc. At present, carbon fiber prepreg has been widely used in:
1). Leisure sports: fishing rod, bow and arrow, kayak, ski, water ski, golf club, bicycle, dragon boat, kite, charge boat, lifeboat, etc.
2). Competitive sports: bicycle, canoe, diving board, pole, etc.
3). Aerospace: aircraft skin, aircraft fairing, rotor, instrument shell, instrument panel, etc.
4). Military products: launcher, shell box, instrument turnover box, butt, radome, helmet, radome, protective armor, UAV skin, etc.
5). Construction Engineering: bridge repair, bridge, structural beam, building repair, gymnasium roof, etc.
6). Automobile manufacturing: bumper, instrument panel, bottom plate, door frame plate, hood, roof panel, air pressure tank, etc.
7). Cutting edge equipment manufacturing: track, manipulator, shell, insulator, conductor, etc.
8). Marine Engineering: radome, sonar dome, instrument panel, propeller, podium wall, FRP Yacht, battery box, etc.
9). Power and nuclear power engineering: wind turbine cabin cover, wind blade, equipment shell, junction box, tower, cable core, insulator, etc.
10). Agricultural breeding: net cage pull rod, breeding box, turnover box, FRP fishing boat, etc.
11). Chemical Engineering: tower pressure components, pipes, profiles, reaction devices, sucker rods, etc.
In recent years, the application of high temperature thermoplastic prepreg has been increasing in the market. It has become a mainstream branch of composite application.
2. Existing technical defects:
In the production of prepreg, whether it is thermoplastic or thermosetting, the heat carrier of prepreg is mainly completed by heating wheel. The existing heating wheels mainly use heat-conducting oil for heating. The common problems such as poor uniformity of roller surface temperature and serious temperature lag caused by heat-transfer oil heating can not produce high-quality prepreg. In terms of mechanical properties, there are also deformation problems of roller surface in long-term use, which makes it unable to meet the thickness consistency control of prepreg. It is impossible to make products with lower gram weight.
3. Solution:
The body of induction heating roller for prepreg uses special steel and subjects to specific heat treatment, Then the homogeneity of roller steel is within a certain controllable range. It can adapt to the deformation support of long-term use.
The following is the production process of thermosetting prepreg and thermoplastic prepreg: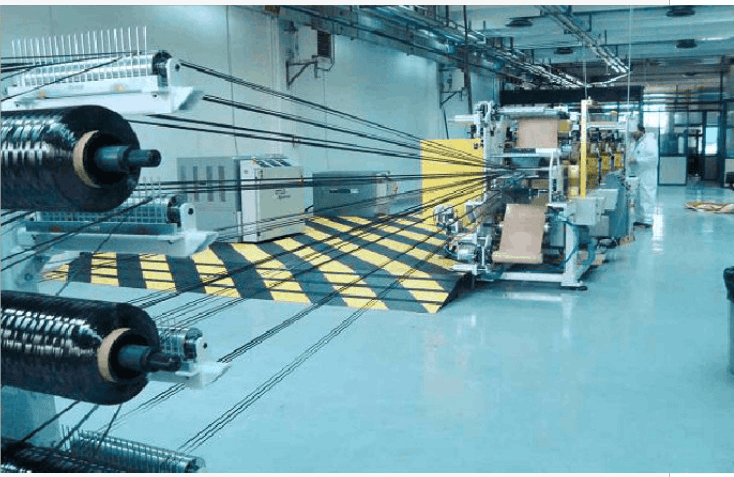 Above picture shows the typical production process of thermosetting prepreg. The raw materials generally include carbon fiber precursor and its fabric, glass fiber and its fabric, aramid fiber and its fabric, and other polymer fibers. The resin is generally epoxy resin.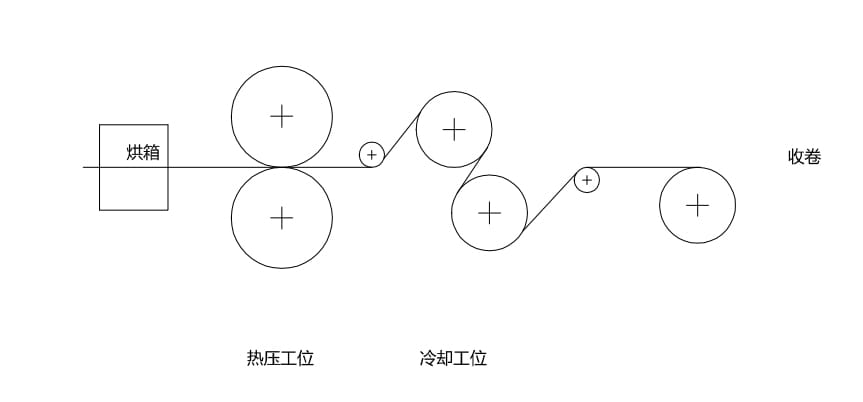 Above figure shows the typical production process of thermoplastic prepreg. The raw materials for production are the same as the thermal fixation. The prepreg resins generally include PC, PPS, PA, PI, peek, etc.
4. Product parameters:
roller size

Φ350~600mm×350~1800mm@150℃/

Φ350~600mm×350~1800mm@420℃

roller material

45# steel、other steel alloy

roller coating

Cr、WC

coating thickness

0.06~0.20mm

roughness

Ra≤0.01~0.03

radius run-out

≤0.002~0.01mm

temperature deviation

±1℃/±2℃

power

20~100kVA