Application of VCL material with induction heating roller
1. Background
VCI paper is a kind of special anti rust packaging material, which is based on special neutral paper, coated with different components of special material VCI, and after a series of post-processing.
The principle of anti rust is that after the package of the gasified anti rust product is packaged, the anti rust particles of the anti rust product vaporize into gas, forming a protective film on the metal surface, cutting off the possibility of metal ions contacting with water and oxygen, so as to achieve the anti rust effect.
It is widely applied various metal antirust packaging, such as mechanical hardware products, steel coil, military weapons and other fields.
2. Existing technologyl defects:
Due to steam pressure, pipeline leakage, water accumulation in the cylinder and other reasons, the temperature stability of steam heating dryer is not good, and the product quality consistency is not good. On the other hand, the environmental problems caused by coal-fired boilers have become the contradiction of industrial development.
3. Solution:
Replace the existing steam heating dryer with induction heating dryer can better meet the requirements of temperature uniformity and consistency, and eliminate the coal pollution in manufacturing industry.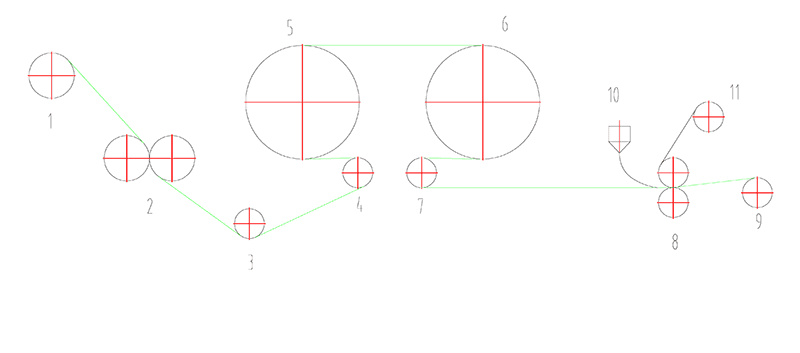 In the figure above, 1 paper unwinding, 2 coating roller, 3, 4, 7 guide roller, 5, 6 electromagnetic induction heating dryer, 8 composite roller, 9 winding, 10pe extruder, 11 structural material unwinding.

Compared with the traditional steam heating roller, the cost-effectiveness of replacing the induction roller will be significantly reduced. It is mainly reflected in the following aspects:
Product quality improvement: provide uniform roller surface temperature to ensure good product consistency;
1) Reduce the size tolerance of finished products, reduce the consumption of raw materials and increase the yield;
2) Under the same roller diameter condition, the thermal efficiency increases, which creates the possibility to improve the production speed and other process conditions, and improves the commercial value of the whole machine;
3) Reduce equipment failure rate, reduce downtime and improve effective working hours of equipment;
4) Reduce the trouble of using boiler;
5) Cancel the steam cycle system, improve the utilization rate of the workshop, and effectively reduce the use cost of the house.
Environmental improvement:
1) Improve the production environment, completely eliminate the risk of scald and environmental noise caused by high temperature steam leakage;
2) There is no relevant steam pipeline, so the field operation space is larger, which is conducive to the operation of various production operations.
4. Product parameters:
| | |
| --- | --- |
| roller szie | Φ600~1500mm×1000~4000mm |
| roller material | 45# steel, other steel apploy |
| roller coating | Cr、WC |
| coating thickness | 0.06~0.20mm |
| roughness | Ra≤0.001~0.4 |
| radius run-out | ≤0.01~0.02mm |
| temperature deviation | ±2℃ |
| power | Max 300kVA |