Industry chain of fuel cell
The fuel cell industry chain includes hydrogen production, storage, filling, fuel cell system (including accessories) and its applications. The whole industrial chain can be simply illustrated as follows: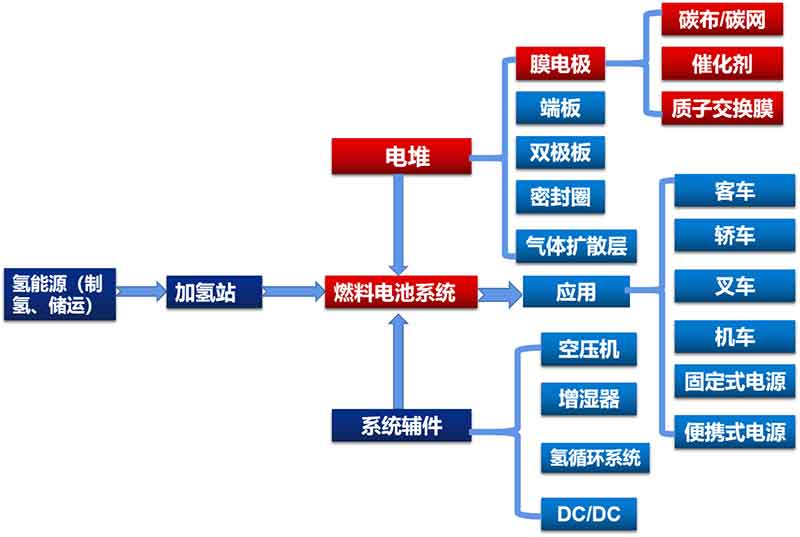 Operational principle of fuel cell
Hydrogen fuel cell is a power generation device that converts the chemical energy of hydrogen and oxygen directly into electrical energy. Its basic principle is the reverse reaction of electrolyzing water. Hydrogen and oxygen are supplied to anode and cathode respectively. Hydrogen diffuses through anode and releases electrons under the action of catalyst. Electrons arrive at cathode through external load, while proton reaches cathode through proton exchange membrane and combines with oxygen atom to produce water.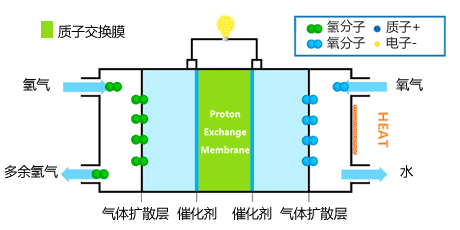 As a fuel cell chip, membrane electrode assembly mainly includes proton exchange membrane, catalyst and gas diffusion layer (carbon cloth). The membrane electrode assembly needs to have excellent chemical stability and mechanical strength. The structure is as follows: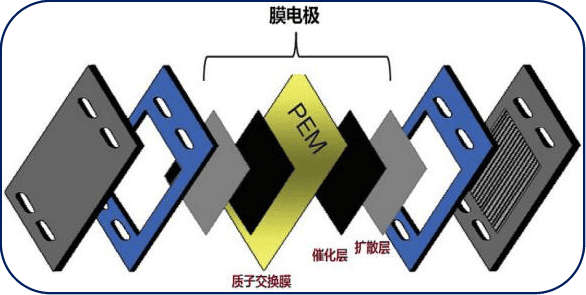 Lamination of MEA
The anode and cathode catalysts need to be coated on the release film (CCM coating) before the MEA is laminated. The micro level precision adjustment can be realized by using slot die coating method, and the minimum tension can be realized by using precision tension control system, with the minimum tension of 2N, and coating precision controlled within ± 1.5%.

Process description and parameters:
Slot die coating employed to realize precise adjustment

Micro tension control system used, with minimum tension 2N
Material width:≤600mm
Coating speed:2~10m/min
Minimum tension:2N
Coating thickness:10~30μm
Coating accuracy:±1.5%
Oven temperature:50~150℃
Temperature accuracy:±2℃
Continuous roll to roll production line is adopted. Firstly, the cathode and anode catalysts coated on the release membrane are respectively compounded into the proton exchange membrane(PEM) by transfer printing, then the diffusion layer (carbon cloth) is laminated with PEM. And then the product will be cut into the required size online.

Process description and parameters:

Linear speed:1~10m/min
Material width:≤600mm
Minimum tension:2N
Laminating roll temperature:≤250℃
Temperature accuracy:±1℃
Roll mechinical accuracy:±0.001mm(@RT),±0.005mm(@PT)