LCP performance characteristics
LCP is an engineering plastic with excellent performance, the main features are as follows:
* Excellent mechanical properties (high strength, high modulus)
* Very small linear expansion coefficient
* Outstanding heat resistance
* Excellent electrical properties (stable low dielectric constant and dielectric dissipation factor)
* Excellent flame retardancy
* Strong chemical resistance
* Excellent radiation resistance and aging resistance
* Very low water absorption rate
* Very environmentally friendly and halogen free
* Strong molecular self-orientation and extremely difficult film formation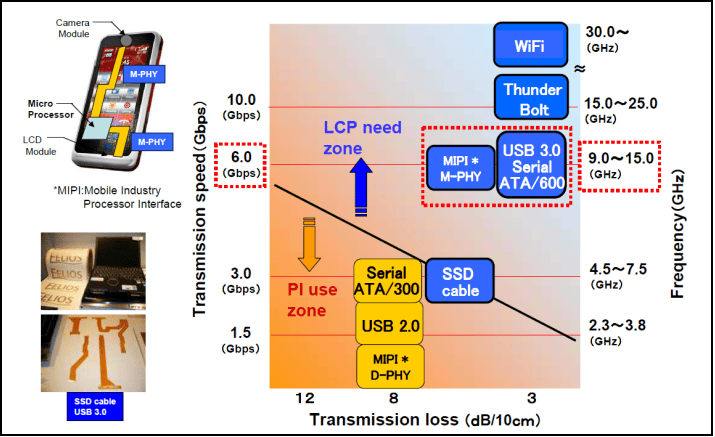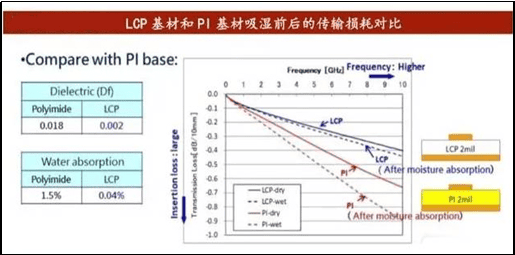 Conclusion could be achieved from above:
PI-FCCL is suitable for the frequency of less than 6 Gbps, with the higher the frequency, the bigger the attenuation loss of signal transmission. Therefore, its performance degradation is very obvious in high frequency field.
The moisture absorption rate of PI substrate is significantly higher than that of LCP substrate. After moisture absorption, the transmission loss of LCP substrate only slightly deteriorates with the increase of frequency. However, when PI substrate is not hygroscopic, its transmission loss is significantly higher than that of LCP substrate. After moisture absorption, the signal transmission attenuation degree increases with the rise of frequency.
Obviously, PI film can not meet the requirements of 5G with high-frequency and high-speed signal transmission. LCP film is the best choice for high-frequency copper clad laminate in 5G era. LCP film shows incomparable performance advantages under the high-frequency conditions above 15GHz. It will have broad application in 5G field.
LCP film forming mechanism and process characteristics
Due to the strong orientation of LCP molecules, it is easy to form a single orientation arrangement under the action of shear stress. Therefore, it is difficult to form LCP films by traditional casting or blowing.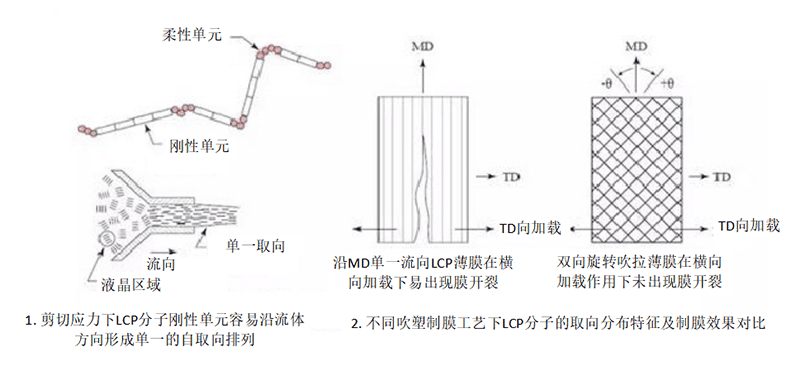 Schematic diagram of the influence of LCP molecular flow characteristics and arrangement direction on the film forming process
There are two kinds of mature processes: spiral die blowing + heat treatment; casting + biaxial oriented process. The former process is more commonly used. The following is a typical schematic diagram of spiral die structure and blowing process, as well as ordinary die and spiral die blowing process comparison diagram.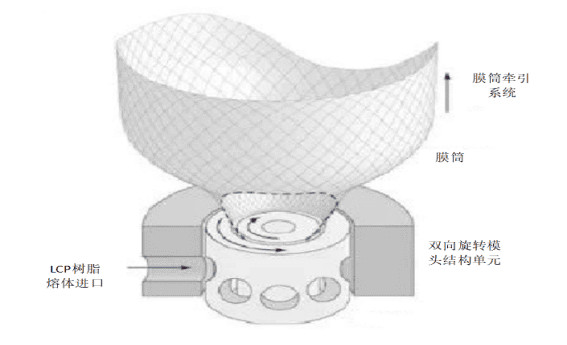 Schematic diagram of key process deconstruction of blown film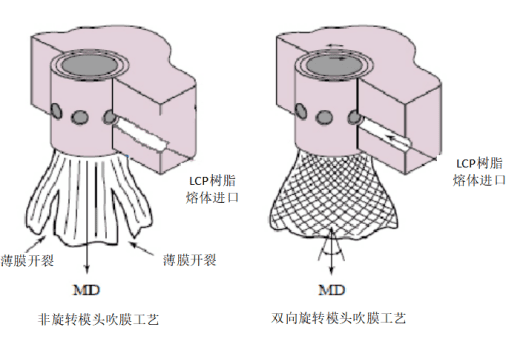 Comparison diagram of film blowing process
Therefore, spiral die must be used to LCP film-forming instead of common die.

Integrated production line of LCP film blowing and post-treatment

The LCP film-blowing production line developed by Shanghai Legion has wide resin processing temperature and narrow fluctuation of film thickness (within ± 10%). After blowing, the film can be treated online to reach the special coefficient of thermal expansion (CTE), as well as to ensure the stability of dielectric constant and dielectric dissipation factor of finished film. The post-treatment will also reduce the fluctuation of film thickness to ± 2 ~ 4%.
This production line is applicable to LCP film with the thickness below 75 μm.
The blown LCP film must be heat treated to reduce the fluctuation of film thickness, adjust the thermal expansion coefficient of the film, eliminate the internal stress of the film, and improve the uniformity of dielectric constant, dimensional stability and plastic processing formability.
If the customer already has a film blowing production line, the post-treatment production line is only needed.
Main process parameters of production line:
Mechanical speed: 3 ~ 30m / min
Film width: 520mm (after trimming)
Film thickness: 25μm, 50μm, 75μm
Thickness deviation: ± 2 ~ 4%
Extruder diameter: φ75mm
Extrusion capacity: 120kg / hr (max)
Die: spiral die
Support carrier: aluminum foil / copper foil / PI foil
Support carrier thickness: 20 ~ 80μm
Mechanical accuracy of hot pressing roller: ± 0.001mm (@RT), ± 0.005mm (@PT)