1. Background:

覆膜鐵,是一種在無錫鋼板表面以熱熔法覆上一層高分子薄膜的環保包裝材料。適用於食品飲料包裝及各工業包裝。是一綜合技術結合的產品。覆,即高溫謾高壓力下進行改性薄膜與無錫鋼板進行複合;膜,即改性專用PET、PP薄膜;鐵,即冷軋鍍鉻薄板。
Film laminated steel is a kind of environmental protection packaging material with a layer of polymer film on the surface of steel plate by hot melting process. It is a product of integrated technology and suitable for food and beverage packaging and industrial packaging.
The product was first successfully produced in Japan at the end of 1980s. It uses high-performance polyester film instead of epoxy resin coating, which has stronger anti rust and anti-corrosion properties, and is conducive to food and other long-term storage, without affecting the taste and quality. Compared with the coating tinplate, the pollution and residue caused by printing and coating are completely eliminated. It is the most environmentally friendly material for food can in the world.
Multi layer polyester film is coated on both sides of cold rolled steel sheet (generally coil steel plate) or chrome plated iron, which makes it have double characteristics of plastic film and metal plate.
Compared with the traditional coating steel and low temperature bonded steel sheet, the high temperature polymer coated steel has super strong corrosion resistance and corrosion resistance. The ability of the modified polymer material to prevent the penetration of corrosion medium is close to "complete inhibition". It is the most ideal packaging material for tomato sauce, beverage and two-piece canned food.
TFs substrate and polyester film need to be closely bonded with high peel strength so that the cans made of polymer laminated steel can withstand high temperature cooking above 120 ℃ and resist the penetration of corrosive substancese. High precision (temperature difference ≤± 1 ℃), high temperature (about 230 ~ 270 ℃) and high pressure are used for thermal lamination, then rapid cooling is carried out to promote recrystallization of polyester film to achieve strict bonding quality.
2. Existing technology defects:
In the existing technology, the key process section of the polymer laminated steel production line is the hot cladding section, and the hot cladding temperature of the steel plate needs to be carried out under the process condition of 260 ~ 300 ℃± 1 ℃. The energy consumption mainly comes from the need of steel plate heating. It has become a major problem to provide continuous and uniform heat to steel plate. There are two main heating methods for steel plate, namely contact heat transfer (including induction direct heating and roller contact heating) and infrared radiation heat transfer. Non contact heating is the most common and backward heating treatment method, which has been eliminated in the industry. The technology of electromagnetic induction heating steel plate is used by a few enterprises in the industry, but the continuous stability of temperature and the uniformity of steel plate plane temperature can not be guaranteed. Unable to produce qualified continuous products. If ordinary electric heating roller and heat transfer oil heating roller are used, there is a problem of temperature uniformity, at the same time, the heat transfer oil can not reach a reliable temperature height. Therefore, in the production process of coated iron, how to provide continuous and stable temperature for steel plate is a crucial problem.
3. Solution:
The induction heating roller is used to replace the existing heating mode. Provide a continuous and stable heat source. In other words, the continuous contact of multiple rollers is used to conduct heat transfer to the steel plate. At the same time, the heat preservation device is adopted outside the steel plate and the roller body to keep the space warm, so as to obtain a closed and stable temperature field. The specific work is as follows: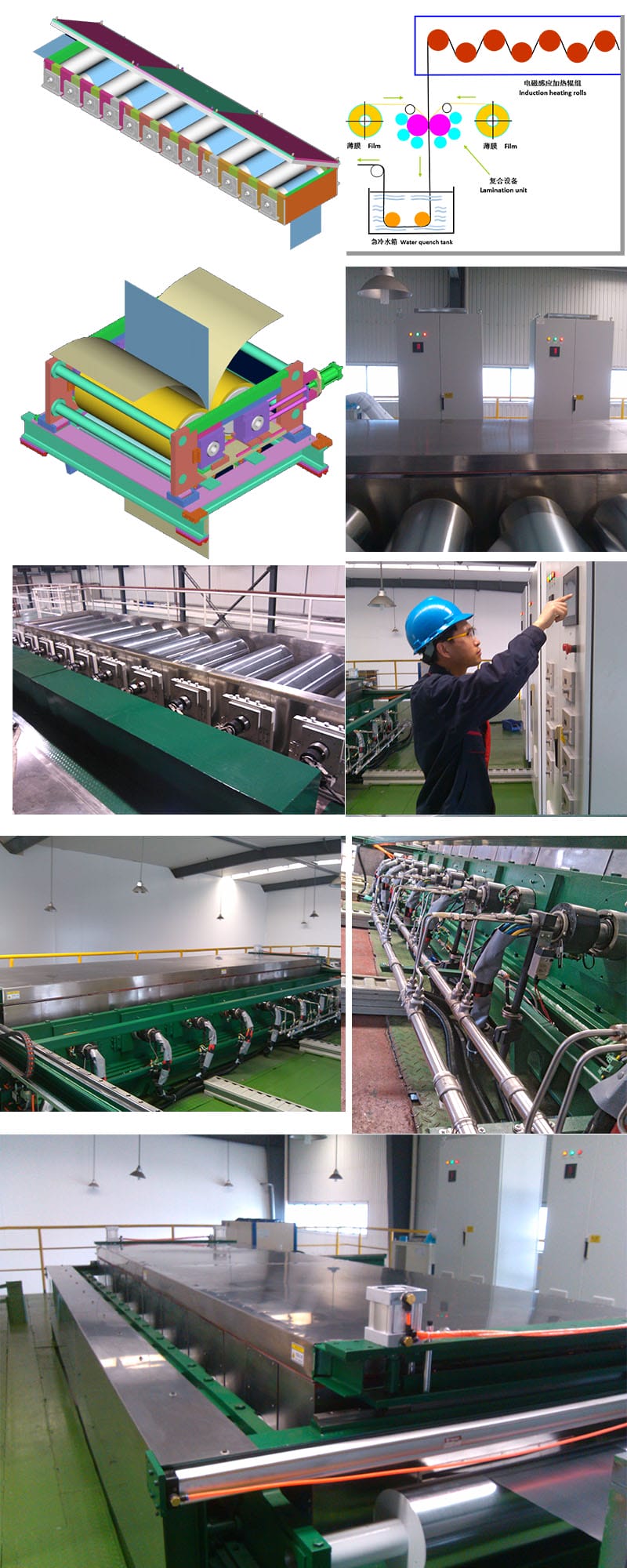 The problem of stable and uniform temperature of steel plate can be successfully solved by heating the steel plate with induction heating roller. It provides effective guarantee for producing qualified polymer laminated products.
4. Product parameters:
1).Induction heating roller:
| | |
| --- | --- |
| roller size | Φ450~800mm×1500~1800mm |
| roller material | 45# Steel |
| roller surface coating | Cr、WC |
| coating thickness | 0.06~0.20mm |
| roughness | Ra≤0.03~0.08 |
| radius run-out | ≤0.005~0.01mm |
| teperature deviation | ±1℃ |
| power | 40~120kVA |
2).General parameters:
| | |
| --- | --- |
| substrate type | TFS, Al plate |
| flim type | PET, PP |
| film color | transparent、white、golden |
| filme thickness | 12~40μm;單面、雙面覆膜 |
| steel plate thickness | 0.17~0.35mm |
| steel plate width | max1250mm |
| line speed | 200m/min (max) |