1. Background
Single piece curved windshield is widely used in the front laminated windshield of cars. Generally, it is made into a large curved surface with a certain radian in each direction. From the point of view of heat insulation and fitting technology, it involves a lot of problems, such as model, stregnth, heat insulation, assembling and so on.
Laminated glass is a kind of safety glass made of two or more pieces of glass bonded together by synthetic resin. The glass can be either ordinary glass or toughened glass, semi toughened glass, coated glass, heat absorbing glass, hot bending glass, etc.; the most commonly used organic materials in the interlayer are PVB (polyvinyl butyral), methyl methacrylate, silicone, polyurethane, etc. When the outer glass is broken due to impact, the fragments are glued to form a radial crack, which will not cause personal injury or death due to debris flying. There are two production methods of laminated glass: film method (dry method) and grouting method (wet method), but at present, dry production is the mainstream.
The dry forming process of film is mainly divided into three steps: first, the PVB film is preformed by a hot roller, and then the PVB film is heated by the process temperature within 180 ℃; Then, after mechanical drawing, the PVB film is shaped at 6 ~ 14 ℃ by conical cooling; Finally, the preformed film is placed in the middle of two pieces of glass and enters into the heat curing device for thermal curing.
2. Existing techniologyl defects:
The preheating roller is heated by heat transfer oil, which has many problems, such as temperature uniformity, environmental protection problems such as pollution of production site and products during the use of heat transfer oil, low heat utilization rate, and large temperature fluctuation caused by thermal lag effect of oil circulation temperature measurement.
In the production, there is a common problem of dewing at both ends of the cooling roller, which is easy to cause product damage and a large number of products are scrapped.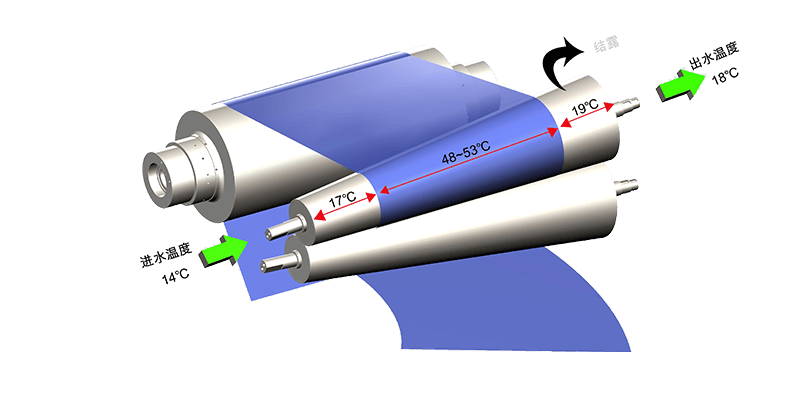 Production diagram of traditional film drawing process
3. Solution:
1). Film preheating: the electromagnetic heating roller is used to preheat the PVB film to keep heating uniformity of PVB film in the process of hot drawing, and reduce the influence of temperature on the consistency of product drawing deformation;
2. Cooling and shaping:
采用联净无结露冷却辊对PVB膜进行冷却,无结露冷却辊能给工作区提供均匀温度,同时将负载中心区域的温度迅速向辊体两端空载区域传递,
When using the non-dewing cooling roller to cool down the PVB film, it can provide uniform temperature to the working area and transfer the temperature of the load center area to the empty area at both ends of the roller body,
使其温度高于环境露点,从而达到不结露的目的。
make its temperature higher than the dew point of the environment, so as to achieve the purpose of no dewing.
无结露冷却辊能有效的解决该生产环切节中存的结露问题,提高产品合格率。
The non-dewing cooling roller can effectively solve the dewing problem existing in the ring cutting section of the production and improve the product qualification rate.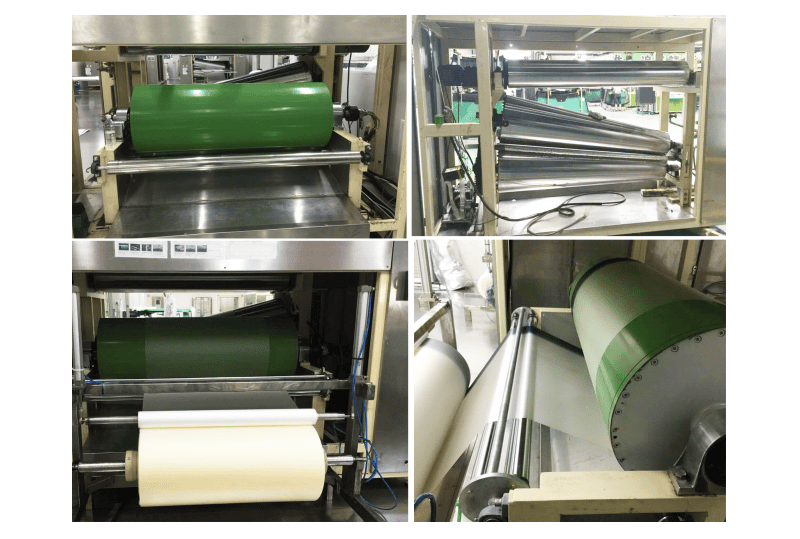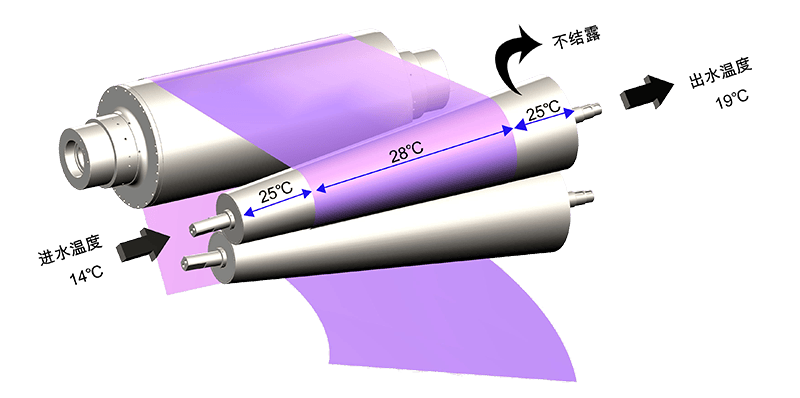 Application of induction heating roller and non-dwing cooling roller in automobile windshield
4. Product parameters:
1). Induction heating roller:
| | |
| --- | --- |
| roller size | φ200mm×1800mm |
| roller material | 45# steel |
| roller coating | PTFE |
| coating thickness | 0.04~0.06mm |
| roughness | Ra≤1.6 |
| radius run-out | ≤0.02mm |
| teperature deviation | ±1~2℃ |
| power | 20~40kVA |
2). Conical non-dewing cooling roller:
| | |
| --- | --- |
| outer dimeter (big side) | 300~445mm, |
| outer diameter (small side) | 150~255mm |
| working temperature | < 35℃ |
| width | 600~1250mm |
| Cr layer thickness | 0.06~0.15mm |